Product Overview
The Body Clock Stimplus Pro applies the same principle as acupuncture, without needles!
It detects acupoints, and then stimulates away the pain, at the touch of a button. It boasts intensity adjustment and pre-set frequencies of 5Hz, 10Hz and 20Hz.
Supplied with a wrist strap and precision extension tip for professional use.
Features and Benefits
No needles!
Fast pain relief
Differential amplifier with 3 stimulation rhythms (5, 10 or 20Hz)
Safe and Easy to Use
Finds acupoints using audio/visual detection
LED Display
6 Intensity levels
Optional Timer
Ergonomic design
Compact and lightweight
Smooth
Value for money
What's Included?
Acupuncture Charts
Wrist Strap- for professonal use
Ear Phone
Extension Tip - for professional use. This is useful where an acupoint is difficult to reach.
Instructions
Soft pouch
2x Lithium Batteries
Downloads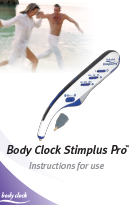 Stimplus Pro
Instructions for use.
(3.7MB)




Technical details
| | |
| --- | --- |
| Intensity | 6 levels |
| Voltage | 6V |
| Pulse Rate | 150µs |
| Pulse Width | 5/10/20Hz |
| Peak Voltage (min intensity) | 2.2V (500Ω load) |
| Peak Voltage (max intensity) | 11.5V (500Ω load) |
| Output (min intensity) | 190µA (500Ω load) |
| Stimulation output (max intensity) | 1.15mA (500Ω) load |
| Low Battery Indicator | 4.5V |
| Power Source | 2 Lithium Batteries |
| Battery life (30 Sec/cycle) | 3,800 cycles |
| Weight/Size | 50g, 170 x 37 x 15mm |
| Timer option | 30, 60 seconds or manual |
| Differential Amplifier | Yes |
Warranty Information
2 year guarantee