Product Description
The Body Clock Stimplus Pro applies the same principle as acupuncture, without needles!
It detects acupoints, and then stimulates away the pain, at the touch of a button. It boasts intensity adjustment and pre-set frequencies of 5Hz, 10Hz and 20Hz.
Supplied with a wrist strap and precision extension tip for professional use.
Features and Benefits
No needles!
Fast pain relief
Differential amplifier with 3 stimulation rhythms (5, 10 or 20Hz)
Safe and Easy to Use
Finds acupoints using audio/visual detection
LED Display
6 Intensity levels
Optional Timer
Ergonomic design
Compact and lightweight
Smooth
Value for money
What's Included?
Acupuncture Charts
Wrist Strap- for professonal use
Ear Phone
Extension Tip - for professional use. This is useful where an acupoint is difficult to reach.
Instructions
Soft pouch
2x Lithium Batteries
Downloads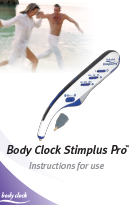 Stimplus Pro
Instructions for use.
(3.7MB)




Technical details
| | |
| --- | --- |
| Intensity | 6 levels |
| Voltage | 6V |
| Pulse Rate | 150µs |
| Pulse Width | 5/10/20Hz |
| Peak Voltage (min intensity) | 2.2V (500Ω load) |
| Peak Voltage (max intensity) | 11.5V (500Ω load) |
| Output (min intensity) | 190µA (500Ω load) |
| Stimulation output (max intensity) | 1.15mA (500Ω) load |
| Low Battery Indicator | 4.5V |
| Power Source | 2 Lithium Batteries |
| Battery life (30 Sec/cycle) | 3,800 cycles |
| Weight/Size | 50g, 170 x 37 x 15mm |
| Timer option | 30, 60 seconds or manual |
| Differential Amplifier | Yes |
Product Reviews
Write Review
Great for Clinicians too.

Posted by Treylan Loftis on 16th Sep 2019

This product easily finds acupuncture, neurovascular, neurolymphatic, and all sorts of important neurological hubs that can stimulate and activate muscles. Great for Clinicians as well as personal use.

Superb

Posted by Samuel on 8th Jun 2017

Great at detecting acupoints, great at easing pain......just great!

Great buy.

Posted by Haley Mowbrey on 25th Apr 2017

This is amazing, it detects points so accurately. Great purchase, very happy customer!

PERFECT!

Posted by Penelope Sunderman on 22nd Mar 2017

This was recommended to me and has worked wonders ever since I tried it! The relief I have felt whilst using it has been so amazing. I would recommend this to anyone who has pain as it detects the points so accurately.
Find Similar Products by Category