Product Overview
The New 3-in-1 COMBO is 3 units in 1! It is the ultimate electrotherapy machine. Equipped with TENS, EMS and MASSAGE modes, with pre-set and customizable options. Ideal for relieving painful conditions, toning and massaging modes.
It is packed with functionality and additional customizable programs.
It feels so smooth that you will want to use it again and again. We have missed nothing on this unit - customer satisfaction guaranteed!
Features and Benefits
9

TENS

Programs (includes 3 customizable programs)

8

EMS

Programs (includes 3 customizable programs)

5

Massage

Programs

Dual Channel - Treats 2 areas

User Mode Customization

Timer Function

Large digital display
What's Included?
FREE Digital Download An Easy Guide to EMS (Hard copy available)

Pack of 4 electrodes
Instructions
2 x Lead Wires
2 x AAA batteries
Downloads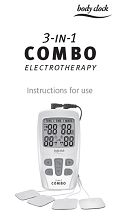 3 in 1 Combo Electrotherapy TENS, EMS and Massage
Instructions for use.
(2.33MB)
Technical details
Intensity
0 to 40 Levels Adjustable
Pulse Rate
2Hz-120Hz
Treatment Modes

TENS, EMS AND MASSAGE MODES

TENS (9 PROGRAMS): P.W (Pulse Width) - 100µs-300µs
P.R (Pulse Rate) - 2-120Hz (Hz=vibration per second)
Treatment Time - 5-90 minutes

EMS (8 PROGRAMS):
P.W (Pulse Width) - 100µs-300µs
P.R (Pulse Rate) - 2-100Hz (Hz=vibration per second)
Treatment Time - 5-90 minutes

MASSAGE 5 PROGRAMS):
P.W (Pulse Width) - 100µs-250µs
P.R (Pulse Rate) - 8-100Hz (Hz=vibration per second)
Treatment Time - 30 minutes

Channels
Dual Channel
Waveform
Biphasic Square-Wave Pulse
Voltage
Max. 120mA (at 500Ω load)
Timer (mins)
Continuous, 5-90 minutes (see above)
Auto Power Off
1 Minute
Battery
4.5V D.C., 3 x AAA batteries
Output Precision
±20% error is allowed for all output parameters
Classification
BF type applied part, internal power equipment IP22
Battery Low Detect
2.2V±0.2V
Weight / Size
70g (without batteries), H:109mm x W:545mm x D:23mm
Operating Conditions
5° C to 40° C with a relative humidity of 15%-93%, atmospheric pressure from 700 hPa to 1060 hPa
Storage Conditions
-10° C to 55° C with a relative humidity of 10%-95%, atmospheric pressure from 700 hPa to 1060 hPa
Warranty Information
1 year guarantee